Definition
An earthquake is a sudden motion or trembling of the ground produced by the abrupt displacement of rock masses.

Science has yet to find a way to predict the date, time, location or magnitude of earthquakes, and so they often strike without warning. Earthquakes may range in intensity from slight tremors that are frequently felt to rare, great shocks that last from a few seconds to as long as several minutes. Big earthquakes are low-probability but high-impact events, and "shocks" (fore, main and after) may come in series lasting several days or even months.
How do earthquakes occur?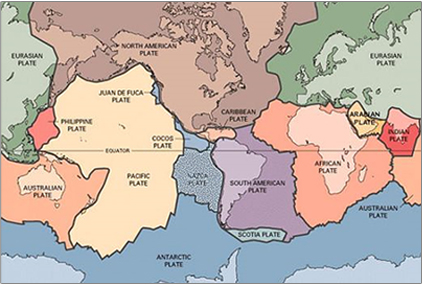 The Earth's outer shell is divided into seven major and some smaller plates which are constantly moving - pushing against, pulling away from, or grinding past one another. Strain accumulates as the plates attempt to move in relation to each other. When the adhesions along the fault give way (resistance to friction is overcome), stored energy is released in the form of earthquakes.
Plate Breakdown of
Earth Outer Shell
Source:
UWI Seismic Research Centre
What is Faulting?

In general, earthquakes occur as a result of movement along pre-existing faults or fractures within the Earth's crust (e.g. along plate margins). Tensile and compressive forces cause strain energy to accumulate within fault zones. When the strength of the crustal material is overcome by these built-up forces, the energy is released in sudden movements along the line of fracture (fault lines) resulting in two crustal blocks slipping with respect to each other. This sudden movement produces seismic waves which travel from the source through the crust to the Earth's surface. When they arrive at the surface, the vibratory motion felt is described as an earthquake.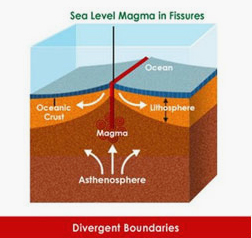 3 Types of plate movements and principal effects:
DIVERGENCE
Oceanic plates pulling away from each other leads to molten material being expelled from cracks to form mid-ocean ridge.
CONVERGENCE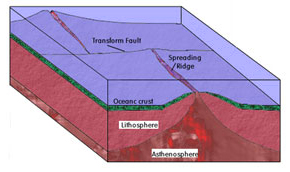 Oceanic plates colliding with and forced under continental plates leads to mountain ranges being pushed up. When two oceanic plates collide, with one sinking beneath the other, an island arc is formed. Earthquakes and volcanic eruptions are associated with both processes.



Collisions of continental plates force up mountain ranges and release compression energy in quakes.



RIFT VALLEY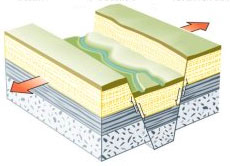 Rift valleys are formed when continental plates pull apart.



TRANSFORM MOTION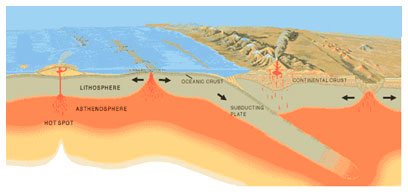 This occurs when tectonic plates slide

past each other (side by side) horizontally. The movement of the plates with respect to each other is described as sinistral (to the left) or as dextral (to the right).



Measurement and Comparison of Magnitude
How Earthquakes are Measured
Seismographs are used to record the strength and characteristics of the different types of waves generated by earthquakes. From these measurements, scientists can also determine the earthquake location.

Two principal methods help to quantify the severity of earthquakes: (1) the intensity; and (2) the magnitude.

(1) INTENSITY:
The scale most commonly used to measure the intensity of an earthquake is the Modified Mercalli Intensity (MMI) Scale. This measures the earthquake's visible effects at specific locations, using a range from one to twelve (I to XII), with I being the lowest and XII the highest intensity.
Above Intensity Level VIII, impact on the Economy and Health is high, with many deaths and injuries.

Modified Mercalli Intensity Scale
Intensity is defined as the effect of an earthquake at the Earth's surface. The MMI scale consists of certain key observations such as people awakening, movement of furniture, and structural damage, and is the most commonly used measure in the USA and the Caribbean.

First proposed by Giuseppe Mercalli in 1902, the version currently in use is the 1931 modification by American seismologists Harry Wood and Frank Neumann. This scale, composed of twelve increasing levels of intensity which range from imperceptible shaking to catastrophic destruction, is designated by Roman numerals. It does not have a mathematical basis; instead, it is an intuitive ranking based on observed effects.

The following is an abbreviated description of the twelve levels of intensity and likely impact:
Modified Mercalli Intensity (MMI) Scale
I. Instrumental.
Not felt except by a very few under especially favourable conditions. Detected mostly by Seismography.
II. Feeble.
Felt only by a few persons at rest, especially on upper floors of buildings.
III. Slight.
Felt quite noticeably by persons indoors, especially on upper floors of buildings. Many people do not recognize it as an earthquake. Standing motor cars may rock slightly. Vibration similar to the passing of a truck.
IV. Moderate.
Felt indoors by many, outdoors by few during the day. At night, some awakened. Dishes, windows, doors disturbed; walls make cracking sound. Sensation like a heavy truck striking building. Standing motor cars rock noticeably.
V. Rather Strong.
Felt by nearly everyone; many awakened. Some dishes, windows broken. Unstable objects overturned. Pendulum clocks may stop.
VI. Strong.
Felt by all, many frightened. Some heavy furniture moved; a few instances of fallen plaster. Damage slight.
VII. Very Strong.
Damage negligible in buildings of good design and construction; slight to moderate in well-built ordinary structures; considerable damage in ordinary structures; considerable damage in poorly built or badly designed structures.
VIII. Destructive.
Damage slight in specially designed structures; considerable damage in ordinary substantial buildings with partial collapse. Damage great in poorly built structures. Fall of factory stacks, columns, monuments, walls. Heavy furniture overturned.
IX. Ruinous.
Damage considerable in specially designed structures; well designed frame structures thrown out of plumb. Damage great in substantial buildings, with partial collapse. Buildings shifted off foundations.
X. Disastrous.
Some well-built wooden structures destroyed; most masonry and frame structures destroyed with foundations. Rails bend greatly.
XI. Very Disastrous.
Few, if any (masonry) structures remain standing. Bridges destroyed. Rails bend greatly.
XII. Catastrophic.
Damage total. Lines of sight and level are distorted. Objects thrown into the air.
In Jamaica, the 1998 version of the European Macroseismic scale (EMS 98) is used. The intensity levels are also written in Roman numerals with 12 increasing levels, and take into consideration modern buildings.

(2) MAGNITUDE:
The second way to quantify severity is to determine the magnitude of the earthquake, which is related to the amount of energy released at its source.

Magnitude Scale
Seismologists use a magnitude scale related to the seismic energy released by an earthquake. The Richter Scale is an approach developed for quantifying earthquakes that was created by Charles Richter specifically for earthquakes in California. In the Caribbean region, we do not use this method in its entirety rather we use some of the features of the method.
Here are typical effects of earthquakes in the near epicentral area for various magnitude ranges:

| | |
| --- | --- |
| Magnitude | Earthquake Effects |
| Less than 3.5 | Generally not felt, but recorded |
| 3.5-5.4 | Often felt, but rarely causes damage |
| Under 6.0 | At most slight damage to well-designed buildings. Can cause major damage to poorly constructed buildings over small regions. |
| 6.1 - 6.9 | Can be destructive in areas up to about 100 kilometres from the epicentre. |
| 7.0 - 7.9 | Major earthquake. Can cause serious damage over larger areas. |
| 8 or greater | Great earthquake. Can cause serious damage in areas several hundred kilometres across |
Although each earthquake has a unique magnitude, its effects will vary greatly according to distance, ground conditions, construction standards, and other factors. Each earthquake generates a fixed amount of energy, but magnitude values given by different seismological agencies for an event may vary because seismologists use different methods and different parameters to determine magnitude Also, magnitude estimates change as more data are included in the computation and this accounts for differences quoted for a given earthquake, by the same agency.

Comparing the Magnitude/Richter & Modified Mercalli Scales in the near Epicentral Zone
Richter measures energy of the seismic wave or shock, while Mercalli measures the intensity or effect on the surface of the earth.

| | | |
| --- | --- | --- |
| Magnitude/Richter | Modified Mercalli | Effect |
| 2 | I | Instrumental. Not felt except by a very few under especially favourable conditions detected mostly by Seismography. |
| | II | Feeble. Felt only by a few persons at rest, especially on upper floors of buildings. |
| 3 | III | Slight. Felt quite noticeably by persons indoors, especially on upper floors of buildings. Many people do not recognize it as an earthquake. Standing motor cars may rock slightly. Vibration similar to the passing of a truck. |
| | IV | Moderate. Felt indoors by many, outdoors by few during the day. At night, some awakening. Dishes, windows, doors disturbed; walls make cracking sound. Sensation like a heavy truck striking building. Standing motor cars rock noticeably. |
| 4 | V | Rather Strong. Felt by nearly everyone; many awakened. Some dishes, windows broken. Un-stable objects overturned. Pendulum clocks may stop. |
| 5 | VI | Strong. Felt by all, many frightened. Some heavy furniture moved; a few instances of fallen plaster. Damage slight. |
| | VII | Very Strong. Damage negligible in buildings of good design and construction; slight to moderate in well-built ordinary structures; considerable damage in ordinary structures; considerable damage in poorly built or badly designed structures. |
| 6 | VIII | Destructive. Damage slight in specially designed structures; considerable damage in ordinary substantial buildings with partial collapse. Damage great in poorly built structures. Fall of factory stacks, columns, monuments, walls. Heavy furniture overturned. |
| 7 | IX | Ruinous. Damage considerable in specially designed structures; well designed frame structures thrown out of plumb. Damage great in substantial buildings, with partial collapse. Buildings shifted off foundations. |
| | X | Disastrous. Some well-built wooden structures destroyed; most masonry and frame structures destroyed with foundations. Rails bend greatly. |
| 8 | XI | Very Disastrous. Few, if any (masonry) structures remain standing. Bridges destroyed. Rails bend greatly. |
| | XII | Catastrophic. Damage total. Lines of sight and level are distorted. Objects thrown into the air. |