Earthquakes can happen at any time, and most often strike with little, if any, warning. Though scientists have made significant advances in understanding how, why and where earthquakes and tsunamis may occur, no one knows when they will happen.

For this reason, we as a community must always be prepared.

Why not get involved in organising and/or supporting community programmes and efforts to prepare for earthquakes: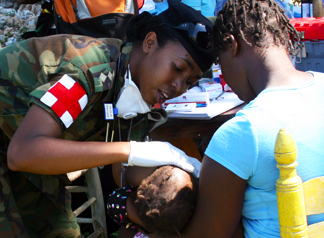 Join your local/community disaster committee.


Plan a basic first aid class and invite your neighbours to attend.(Contact your local Red Cross for information on first aid training).


Ensure that your community is aware of the hazards that might particularly affect your area.


Evaluate your neighbourhood resources.


Develop a local earthquake plan. Set up guidelines to follow in the event of a disaster and design a post-disaster cooperative assistance programme to help get your community back on its feet quickly.


Share your earthquake emergency plans and information with friends and relatives. Discuss a plan of action with your neighbours/residents association to help each other in the aftermath of an earthquake.


Identify, and give advice and support to more vulnerable persons in your community, including people with disabilities, large or single parent families with infants and small children, elderly (especially those living alone).


Support the enforcement or creation of local building regulations which minimize earthquake hazards in new construction.


Support or organize earthquake drills in schools. If drills are not conducted periodically, suggest that the school contact the local Disaster Committee for assistance in formulating an organizational plan.


Consider joining the Caribbean Red Cross or International Red Cross, your local Lions Club or Rotary Club.